Sponsors

New Investments
Silicom Ventures kick off 2004 with two new investments

Portfolio Updates
InterVideo has entered into a new distribution agreement with Navarre Corporation (NASDAQ: NAVR) and its Distribution Services Division. .

NanoMuscle has expanded its operations in Asia, naming Hong Kong as its regional headquarters and establishing an engineering facility in the Pearl River Delta. The company plans to satisfy demand for its cutting-edge motor technology by focusing on the US$8.1 billion Hong Kong toy market; approximately half of the world's toy exports originate from Hong Kong.

FlyOver 2nd generation Visual MAP™ Technology fuel Kenwood new Theater Navi - Car Navigation Systems with 3D aerial imagery map.

GuideTech announced the addition of several new team members joining the executive and technical staff.

PricewaterhouseCoopers Uses seeUthere to Streamline Registration and Data Consolidation .

V-Secure Technologies will be present at the RSA Show, Moscone Center, San Francisco, February 24-26, 2004 Booth 105.
The Annual Symposium
On February 10th, 2004 Silicom Ventures held its third annual symposium. This year we focused on STORAGE. The event featured speakers and panelists from companies such as: Cisco Systems, IBM, Brocade, Intel Capital, Mayfield and Sequoia Capital.The event was in partnership with the Israeli consulate. Click here to see a some pictures from the event.
Next Meeting
The next Silicom Ventures monthly meeting will take place on March 16th in the usual venue at KPMG. At the meeting we'll have professor Henry Chesbrough as a keynote speaker, two startup presentations, two short follow ups and a special offer by a entertainment fund of the actor Michael Douglas. As usual at the beginning we'll have about ten companies presenting at the poster session. For the complete program please visit http://www.silicomventures.com/next_meeting_3_16_04.htm
---
If you can't view this HTML email please visit this link http://www.silicomventures.com/newsletter_3_04/index.htm
---
Your feedback is welcome. For articles and any information that might interest the group to be posted on the next newsletter, Please contact: [email protected].
---
The opinions and analysis included in this enewsletter are based from sources believed to be reliable and in good faith but no representation or warranty, expressed or implied, is made as to their accuracy, completeness or correctness.
Upcoming Events
On May 11th Silicom Ventures will feature Vinod Khosla, the last decade's most successful venture capitalist.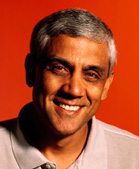 ---
On April 13 we'll feature J. Gerry Purdy, Ph.D. as a speaker. Mr. Purdy is
Principal Analyst at MobileTrax LLC and
Venture Consultant at Diamondhead Ventures