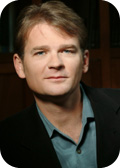 David Ewing Duncan,
Author,
Experimental Man

David Ewing Duncan is an award-winning, best-selling author of seven books and numerous essays, articles and short stories; and a television, radio and film producer and correspondent. He writes columns for Fortune and for MIT Technology Review, and is the Chief Correspondent for public radio's "Biotech Nation". He writes for the New York Times, Wired, Discover, National Geographic, and many other publications. At UC Berkeley he is the Director of the Center for Life Science Policy and a Visiting Researcher at the Graduate School of Journalism. David's most recent book is the bestselling
Experimental Man: What one man's body reveals about his future, your health, and our toxic world
(Wiley). His previous book was
Masterminds: Genius, DNA and the Quest to Rewrite Life
(Harper Perennial). He wrote the international bestseller
Calendar: Humanity's Epic Struggle to Determine a True and Accurate Year
(Harper-Collins/Avon), published in 19 languages, and a bestseller in 14 countries.