DATE :
September 27, 2012 @ 4:00-5:30PM
ABSTRACT:
Drawing on his experiences at key companies (Twitter, Google) and his investment in others (AirBnB, Square, etc.), Elad Gil will explore three big shifts happening across the web:
1. Social media is reshaping how content and commerce are distributed on the web. How do Pinterest, Twitter, Facebook impact what users do on the web? How have social media models changed in the last year?
2. How ecommerce models have shifted: 2-sided versus 1-sided marketplaces (e.g. AirBnB, Uber,...) and the emergence of next generation web businesses (Warby Parker, Nasty Gal, etc.).
3. SaaS and the developer. The enterprise sales model is shifting due to the consumerization of enterprise software. What does the future hold?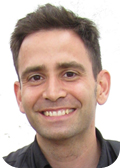 Elad Gil is an adviser to Twitter and investor in leading internet companies such as AirBnB, Hipmunk, Square, and Stripe. Previously, Elad was the VP of Corporate Strategy at Twitter and ran various product (Geo, Search) and business (Corporate Development) teams. Elad joined Twitter at just 90 people (it is now over 1000) when it acquired GeoAPI, a company he was the founder and CEO of. Prior to GeoAPI, Elad was at Google where he started Google's mobile wireless team and helped acquire 3 companies including Android. Elad has a PhD from MIT.