DATE:
December 2, 2014 @ 12pm to 2pm
ABSTRACT:
Synthetic Biology is revolutionizing the pharmaceutical, chemical, agricultural and energy industries.It involves the construction of organisms to get specified results. This is done by the implementation of artificial genetic processes to give specific characteristics to an organism and even can be used to develop a completely new biological system. Synthetic Biology has emerged recently due to the exponential cost reduction in DNA sequencing and synthesis, new lab automation and robotic technologies and advancements in understanding the functioning of biological organisms, cells & genes. Global synthetic biology market was valued at $3.0 billion in 2013 and it is estimated to reach $38.7 billion by 2020, growing at a CAGR of 44.2%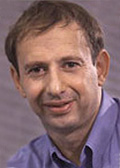 Dr. Barzilay is the executive chairman of Genome Compiler Corporation, the leading vendor of a software platform for Synthetic Biology. Earlier, he was the interim CEO of CollaBrx, a biotechnology company which helped oncologists develop customized therapies for cancer patients. Dr. Barzilay was a General Partner with Walden International, a global Venture Capital firm. At Walden Dr. Barzilay led several investments in innovative software companies and served on their boards. Prior to joining Walden Dr. Barzilay was a co-founder, chairman, and CEO of Mergent Systems, a business-to-business e-commerce infrastructure start-up. Prior to Mergent, Dr. Barzilay held a variety of senior management positions in the software industry and was an AI researcher at Xerox Parc. Dr. Barzilay has an engineering degree from the Technion in Israel and an M.B.A. and Ph.D. degree from the University of Pittsburgh.