Sponsors


Gold Members
Silver Members

Portfolio Updates
seeUthere Technologies announced key milestone for the company. It closed a round of 4.6 Million dollars from a major VC.

Expedia Corporate Travel Selects seeUthere Technologies' product

NanoMuscle received 16 million in (over subscribed) C round. The investors are International Investors Vision Capital, Crossbow Ventures, Volkswagen and AG.

V-Secure Technologies will be present at the RSA Show, Moscone Center, San Francisco, February 24-26, 2004 Booth 105.
VC Panel Discussion
Our November meeting featured a vc panel discussion that was moderated by Amos Barzilay. The topic was "Early stage high tech investment in the new environment" and the panelists were Julien Nguyen, Bruce Crocker, Naval Ravikant and William T. Charlton. Amos was able to spice up the discussion, and use humor to elicit candid and personal responses from the panel. Overall this was an educational and entertaining experience.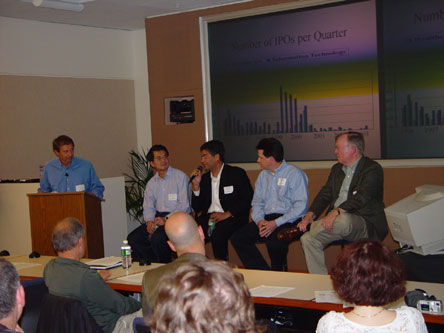 The Annual Symposium
Our Annual Symposium is tentatively scheduled for February 10th, 2004. This year we will focus on STORAGE. Storage has been one of the major forces behind the computer revolution in the last few decades, obeying Moor's law and doubling in capacity every 18 months. But cheaper, larger and more ubiquitous storage presents new problems in architecture and organization in modern distributed environments.
The Silicom Ventures Storage Symposium will offer insight into these and other issues of storage systems. Leading industry experts will join forces with members of the financial community in an informed panel discussion and open debate on where the storage industry stands today and how it will impact future development of computer networks and its related business opportunities.
The event will be in partnership with the Israeli consulate.
---
The opinions and analysis included in this enewsletter are based from sources believed to be reliable and in good faith but no representation or warranty, expressed or implied, is made as to their accuracy, completeness or correctness.
Upcoming Events
December 16th - Next Silicom Ventures monthly meeting will feature Dr. Gal Luft and Anne Korin that will address the topic: "America's Growing Oil Dependence: Why it matters, and what we can do about it". For additional information click here.

Open House- On December 9, NanoMuscle will be having an investor open house at its offices in Antioch, California. please feel free to contact Bob Worthington at [email protected]
New Corporate Silver Member
Giza Venture Capital was established in 1992 and has three funds totaling $316 million. Giza has invested in 64, early to late-stage companies in the sectors of Communications, IT, Enterprise Software and Life Sciences, with 21 exits.
New Corporate Bronze Member