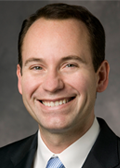 Dr. John Morton is Chief of Bariatric and Minimally Invasive Surgery at Stanford University School of Medicine. He also heads the Bariatric and Minimally Invasive Surgery Fellowship and is Co-Director of the Stanford Digestive Health Center. Dr. Morton received undergraduate, Masters in Public Health, and Medical Doctor Degree from Tulane University and a Masters in Health Administration from University of Washington. He was the first surgical resident to receive a Robert Wood Johnson Clinical Scholar Fellowship in the program's history at University of Washington and also completed an advanced laparoscopic fellowship at University of North Carolina, Chapel Hill. He served on Capitol Hill as Senator Bill Frist's Health Policy Intern. He is a Diplomate of both the American Board of Surgery and American Board of Obesity Medicine and certified in Medical Quality by the American College of Medical Quality.
He has published over 100 peer-reviewed articles and 15 book chapters with over 200 national and international presentations. His research has focused on quality improvement and bariatric surgery and has published influential articles on patient safety, adolescent bariatric surgery, diabetes and gastric bypass, fertility and birth outcomes following weight loss surgery, probiotics, pre-operative weight loss, family effects of weight loss surgery, effect of weight loss on testosterone, obesity disparities in health care, changes in cancer screening tests following weight loss, endoscopy, and impact of gastric bypass upon alcohol metabolism and cardiac risk factors. He led 5 site FDA Pivotal Trials and has received funding from National Institutes of Health and Gordon and Betty Moore Foundation. He serves as editor of Morbid Obesity: Perioperative Management, The ASMBS Textbook of Bariatric Surgery, Volume 1: Bariatric Surgery and SAGES Handbook on Quality, Patient Safety and Outcomes. Furthermore, he serves on the editorial boards of Obesity Surgery, Surgery for Obesity and Related Diseases, Bariatric Times, Journal of Surgical Case Reports and World Journal of Gastroenterology. His research efforts have been recognized by 15 research awards from 4 different surgical societies including the Society for Advanced Gastrointestinal Endoscopic Surgeons (SAGES) Golden Laparoscope Award as 2008 Young Investigator of the Year. As a teacher, Dr. Morton has received five teaching awards at Stanford University in 8 years including the 2008 Arthur Bloomfield Clinical Teacher of the Year and 2011 Henry J. Kaiser Teaching Award.
As Director of Surgical Quality at Stanford University Medical Center from 2007-2013, Dr. Morton led efforts to improve the Department of Surgery's University Health Consortium's annual ranking from 24/98 to 1/98 and their Annual NSQIP mortality ranking from Average to Exemplary. Among NSQIP Surgical Champions, he was chosen to chair the monthly Surgical Champions forum for the American College of Surgeons. He has been an invited speaker on surgical quality by the American College of Surgeons, Agency for Healthcare Research and Quality, National Patient Safety Foundation, and American Society for Metabolic and Bariatric Surgery and served on the National Quality Forum's Surgical and GI/GU Steering Committees. Currently, he is the national co-chair of the Metabolic and Bariatric Surgery Accreditation and Quality Improvement Program (MBSAQIP), a collaboration between the American Society of Metabolic and Bariatric Surgery and the American College of Surgeons. In 2014, the Stanford Bariatric Surgery program was noted to be Exemplary in five different categories by MBSAQIP.
From 2014-5, he served as elected President of the American Society of Metabolic and Bariatric Surgery composed of over 4000 members from 52 countries. With over 2000 bariatric surgeries performed, he has been recognized as a bariatric surgery leader by Agency for Healthcare Research and Quality, RAND, American College of Surgeons, Who's Who and America's Top Surgeons. His clinical skills have resulted in being named Castle Connolly's Physician of the Year for Clinical Excellence in 2012. He has also served as President of the California chapter of the American Society for Metabolic and Bariatric Surgery (ASMBS) and served as the National Chairman for Access to Care and Data Dissemination for ASMBS and Member of the Committees on Public Education, Emerging Technologies, and Research. He has been an invited speaker on weight loss surgery by the American College of Surgeons, American Society of Bariatric and Metabolic Surgery, The Obesity Society, Digestive Diseases Week and Society of Advanced Gastrointestinal Endoscopic Surgery as well as at Cleveland Clinic, Vanderbilt and Harvard and internationally in the United Kingdom, Mexico, Australia, Portugal, Germany, Taiwan and France. He received top presentation awards from SAGES, ASMBS, and Digestive Diseases Week. Dr. Morton has been featured on the Today Show, Good Morning America, NY Times, National Public Radio, CNN, Fox, MSNBC, BBC, Newsweek, Time, Medscape, Washington Post, LA Times, San Francisco Chronicle, USA Today, International Herald Tribune, Reuters, United Press International, Wall Street Journal, and Associated Press.